An original GOON1 Climax combatant, Alfons von Gigas was thrust into extremely tough competition against The Salty Sturgeon, who would go on to later win the GCW Jeff Hardy Memorial Championspliff. He lost this first bout handily.
After the tournament, Alfons went into seclusion in his home country amid much shame. Upon hearing that GOON Wrestling was going to become a mainstay, he chose to continue his fight. In order to hide his pathetic identity, he donned a mask and became Gigas Warrior.
His finishing maneuver has remained the same, the Dutch Courage. This is a devestating elevated powerbomb named after the fact that he's a shitty drunk, dependant on liquor.
Confusion over Identity
Edit
After a humiliating loss in the original GOON1 Climax, beloved five-time Manitoba Closed-Circuit Seven-Man Handicap Tag title holder Alfons von Gigas (nee Gigant) disappeared into his combination monastery and liquor refinery, deep in the Dutch Alps. Nobody knows what became of the once-mighty giant.
A similar competitor, the almighty Gigas Warrior, made his triple-proof impact in the GCW with a sporting and revolutionary battle against one Coldberg that he ultimately lost due to tampered scotch. Despite many similarities, a similar origin, and a shared love of drink, Gigas Warrior is not to be confused with Alfons von Gigas. He is never to be confused with Alfons von Gigas. It is slander to do so.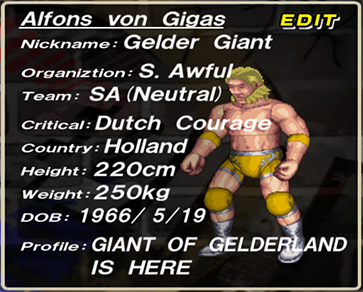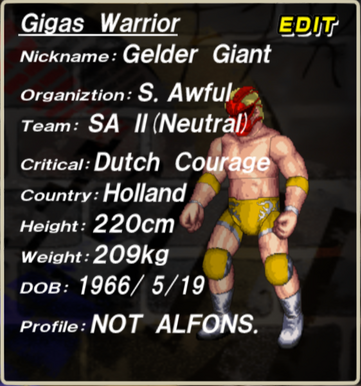 Date
Match
Opponent
Result
Record
Notes